Genshin Impact has been released not long ago yet it has embraced a superior niche among the gamer community. Toss in a great storyline, fantastic soundtracks, and a vast pool of characters with eye-catching outfits and different personalities, we have got Genshin Impact!
Meanwhile, there are tons of memes that surfaced thanks to the gacha mechanics and humorous aspects of the game. Check out some of the best Genshin Impact memes below.
Note: (Credits to all the owners and creators of all the memes below.)
1. The Archon of Freedom
Among the three Archons who have been introduced to the game, Raiden Shogun and Zhongli have a strict set of rules and both swore to seriously protect their regions.
On another hand, Venti, the Anemo Archon, seems more concerned about draining the Dandelion Wine's Dawn Winery.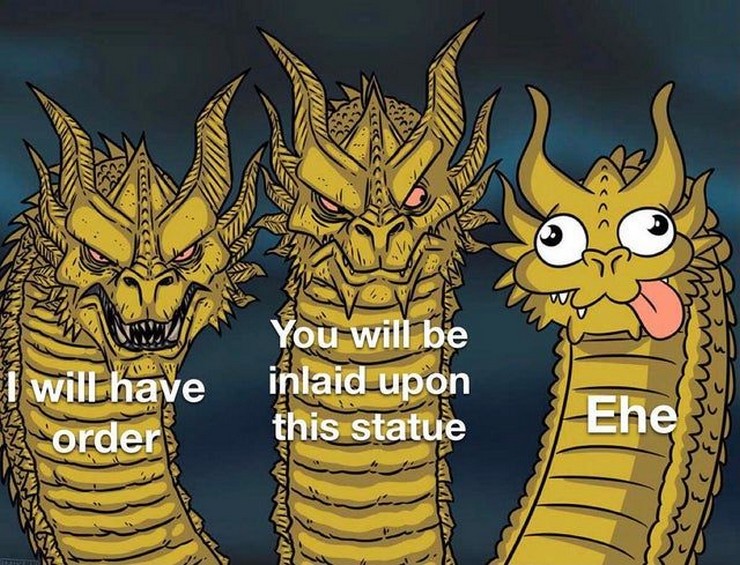 The right dragon is a resemblance of the small Barbatos and this is among the most known Genshin Impact Venti memes out there.
2. Choosing a team
Some squeeze their brains to strategically pick a team, while others take it easier and choose the teammates on another aspect: visuals.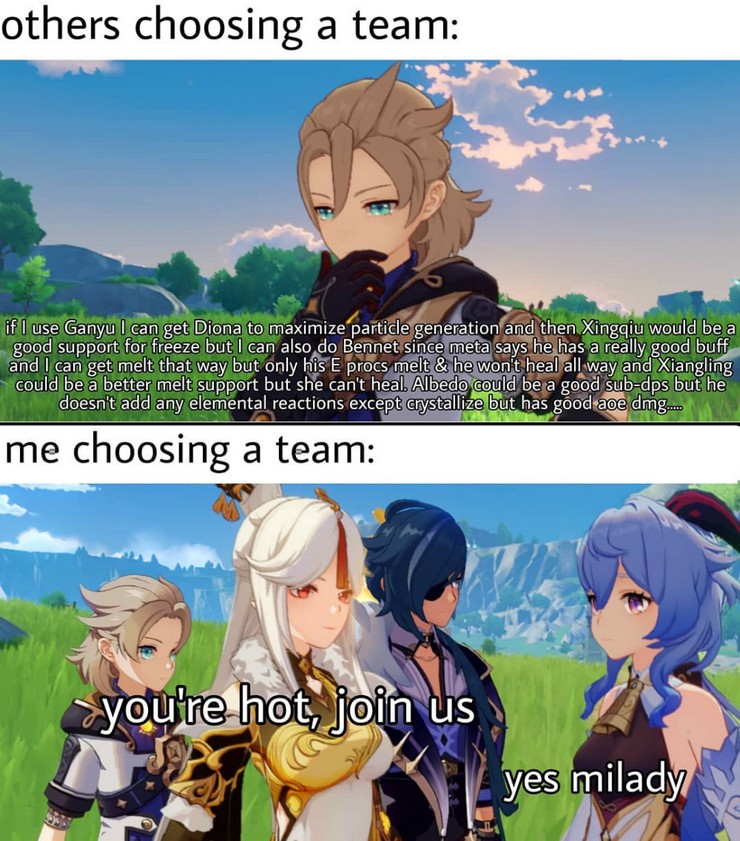 3. Need a light?
Amber is probably the most underrated character in the Genshin Impact tier list. Many of us switch her for another Pyro character just to get her back for the tiny tasks. Some even make a second team with her only for lighting fire.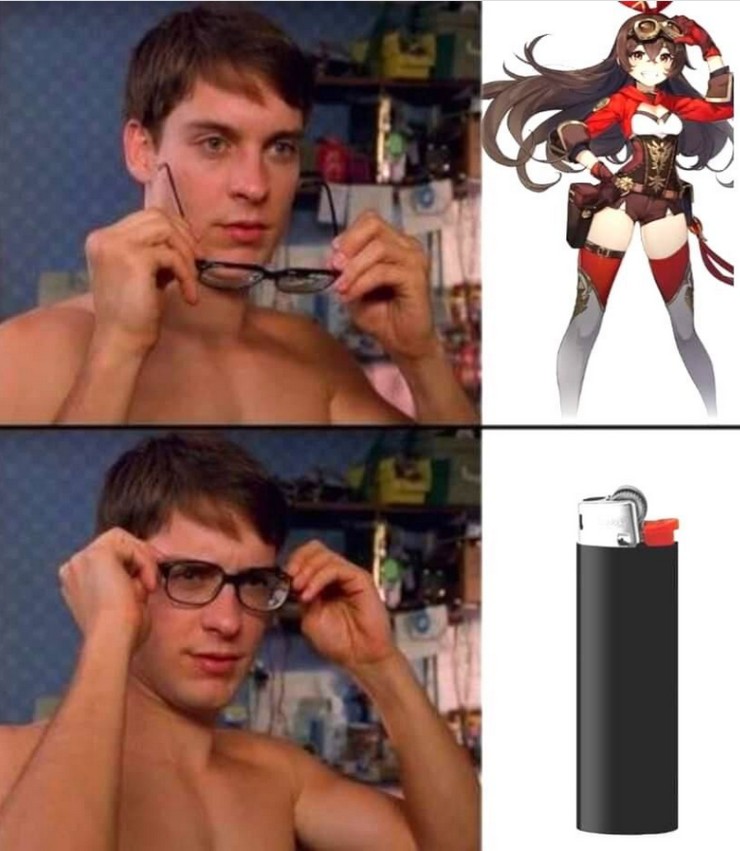 4. Paimon the Emergency food
The adorable mascot fairy of Genshin Impact, Paimon, is especially meme-able. While we are not sure whether she is edible, some dialogue seemingly suggests that her species can be a delicacy for some.
Although getting a Netflix adaption for Genshin Impact sounds impossible, fans have shared some interesting imaginations, speculating how she would look in a live-action show.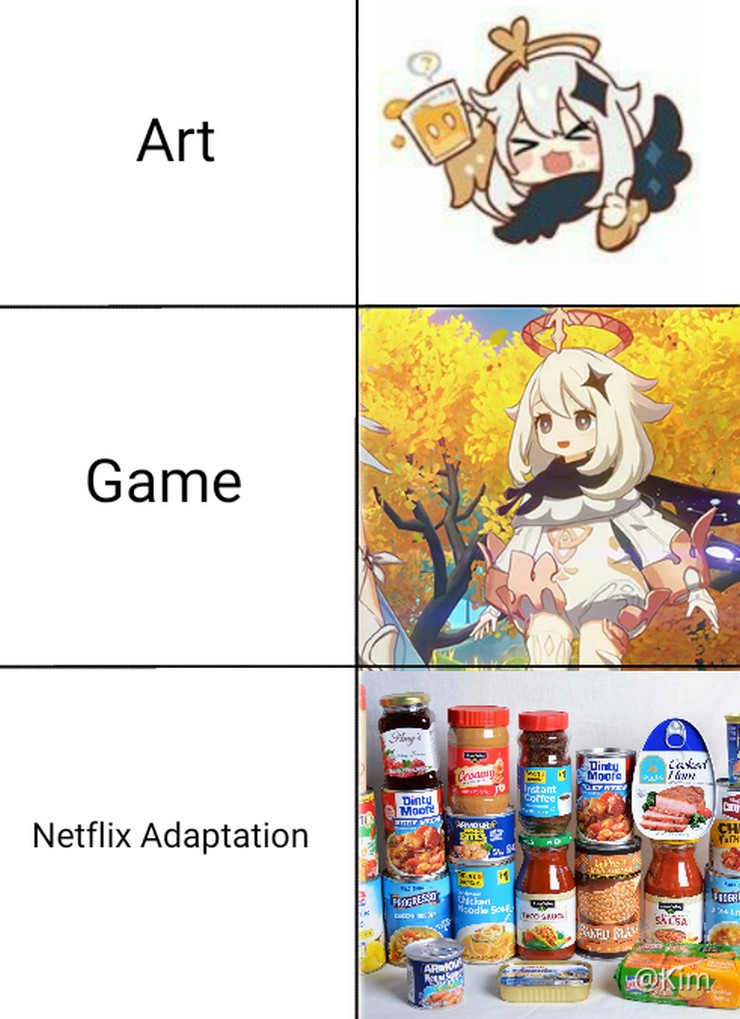 5. 5-Star Hunger
With characters like Qiqi, Diluc, or Keqing, who doesn't want a 5-star powerhouse in their party? The only issue is that their drop rates are especially low and costly even. That's what makes so many players desperate to get one! Some players even buy Genshin accounts with them on.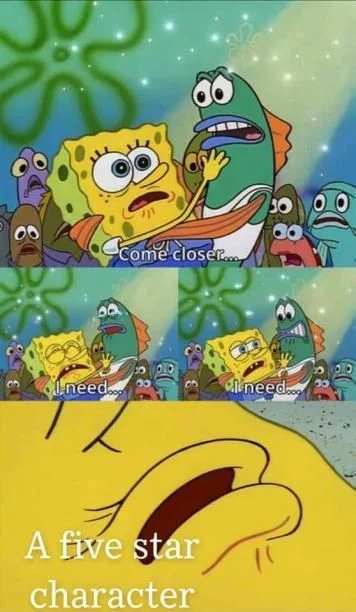 6. Klee's Power
Klee, as the Knights of Favonius' youngest member, loves running around and fishing with bombs. However, she had her vision very young and is a formidable force on the battlefield. The little ball of sunshine may take down the Fatui on her own if needed.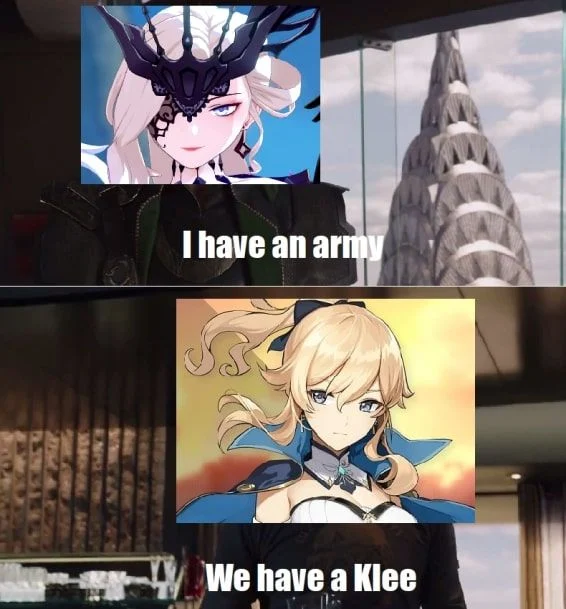 7. "What are you?" - "An idiot sandwich"
Among the Genshin Impact memes that made headlines, this one includes Raiden Shogun and the famous chef Gordon Ramsay.
In the game, Raiden Shogun is the sovereign of Inazuma, one of the nations within the fictional Teyvat continent. However, the lady is depicted to be inexperienced in cooking despite being highly sought after for other reasons.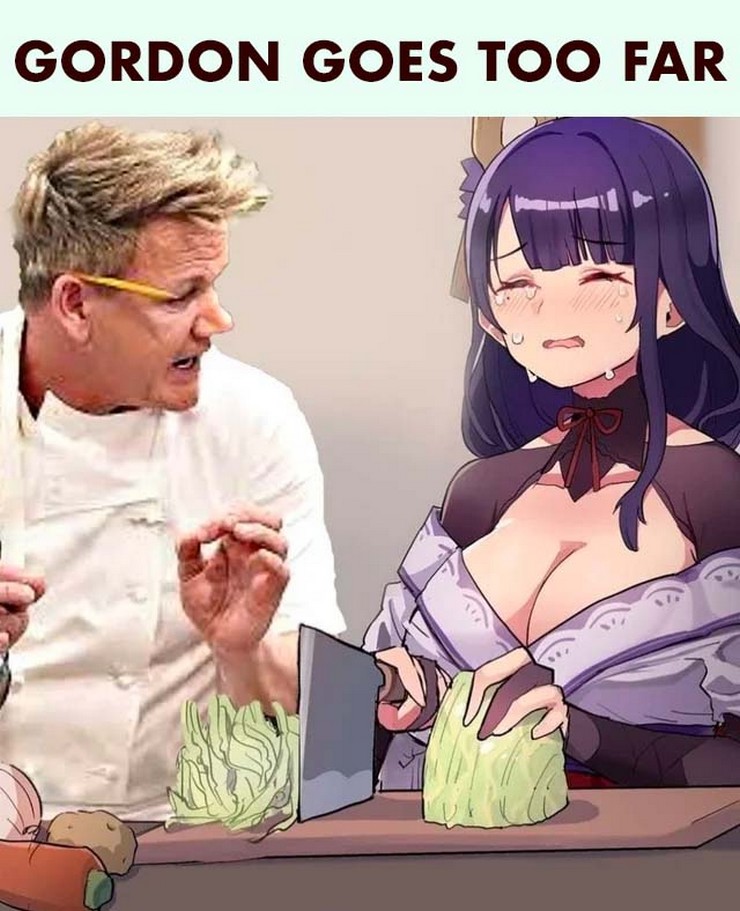 Imagine a cooking session with Baal and Ramsay, what a mess it could turn into with all the yelling and crying.
8. Humor based on my pain
Apart from Raiden being unable to cook, more weaknesses of the characters are used as meme materials. Involving the three Archons Venti, Baal, and Zhongli, this can be among most condensed and accurate Genshin Impact memes ever.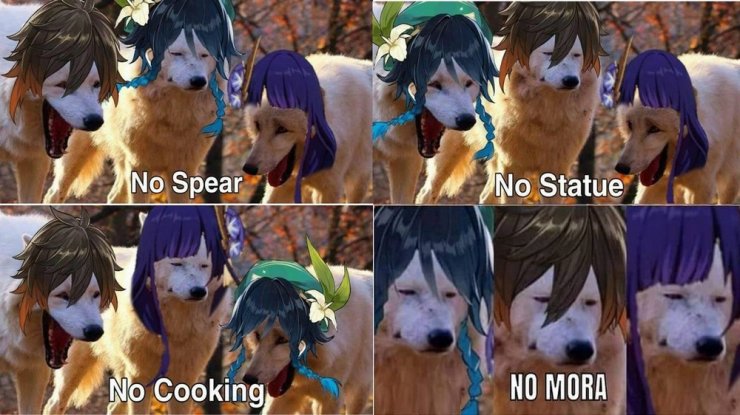 9. Free-mogems comfort
Genshin Impact players will not find it a bummer to wait for the game to recover from servers being down. Why? Because every fan of the game knows that they will be compensated generously.
Typically, players get 60 free Primogems for each hour the servers are down.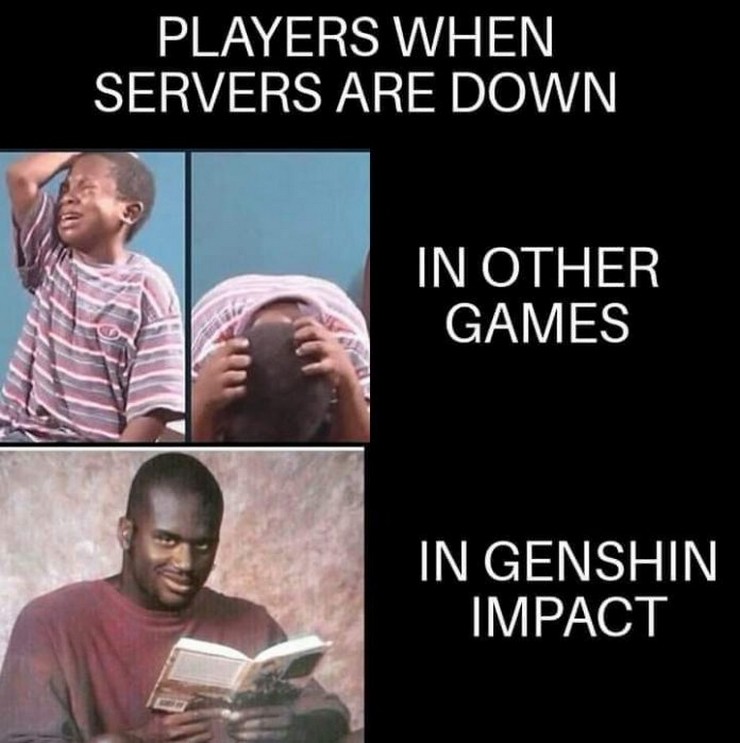 10. Spain without the S
The best Genshin Impact memes know how to make players laugh in pain. 5-star characters are hard to pull even in their banner. Feeling that sorrow, fans made this to bitterly remember that the most wanted character will not land in their collection easily.
More goodbyes to sprinkle more salt on your unhealed wound: Kleave, See Eula-ter, Ventout, Yoiseeya, Zhongleave.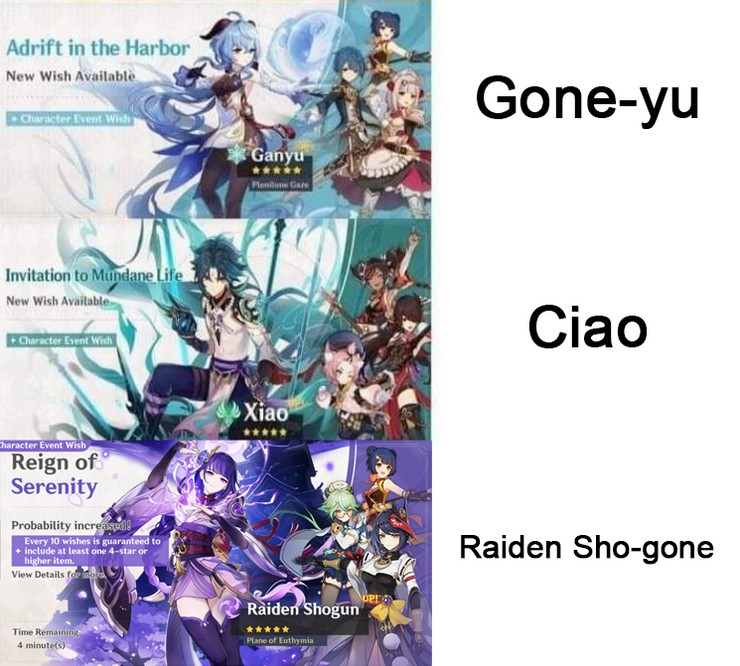 11. Teyvat's online class
In the midst of the pandemic, Zoom online classes and meetings are the common method to work virtually. Imagine if the characters also had to study online, here's how their class would look.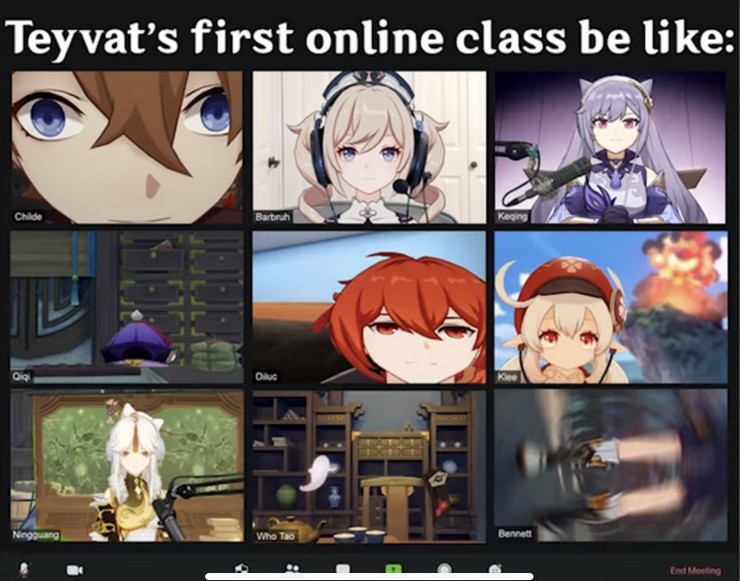 12. Distractions everywhere
The ultimate goal of Genshin Impact is for the Traveler to find their lost sibling. However, too much is going on on the way such as collecting shiny items, chests, and doing random quests. It's just hard to stay focused on the main task, admit it.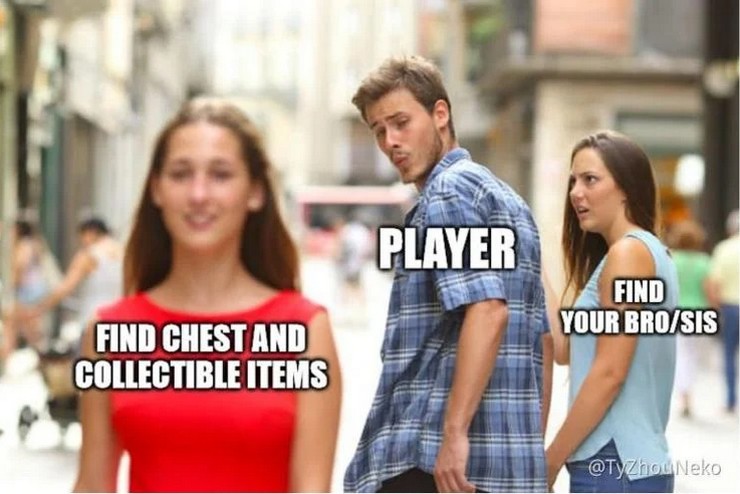 13. Don't make a fuss at mealtimes
Do you know that moment when the villains have to wait for the protagonists to transform before fighting, such as in Sailormoon or Power Rangers? The Bosses in Genshin Impact probably feel the same when you feed the fallen down characters and revive them amid the battle.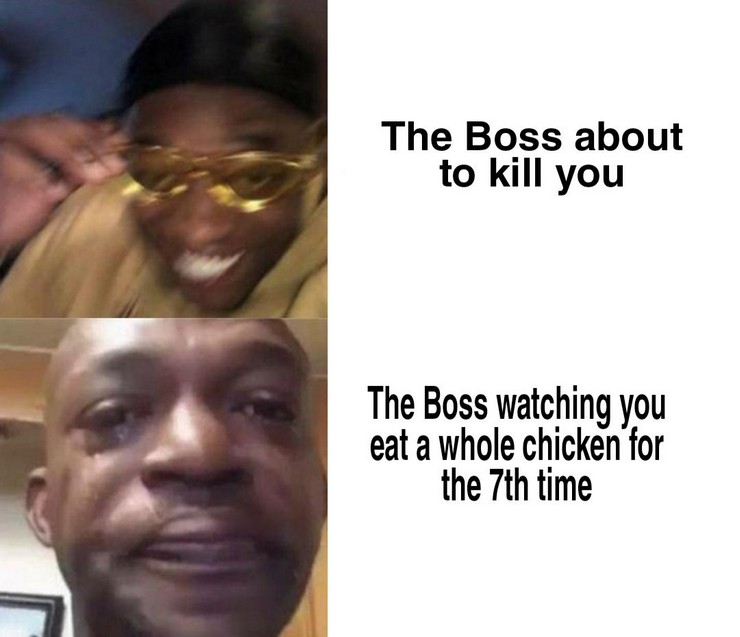 14. Hilichurls can feel, too
"When that blondie and friends come to your hood, destroys exactly two towers, refuses to elaborate, and leaves for the third time this week".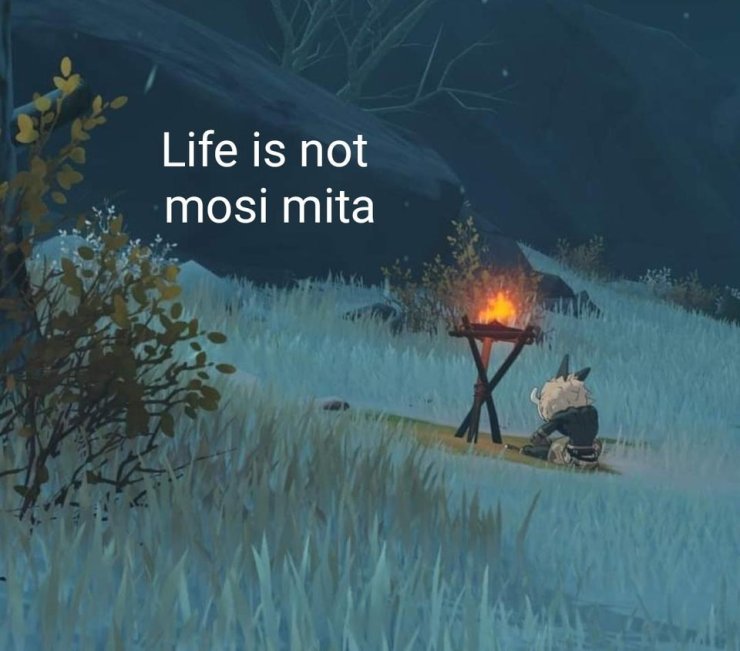 15. Scarier than fighting monsters
The strength amount it takes to climb mountains is quite impressive. However, for some reason, that strength cannot stop you from dying from drowning.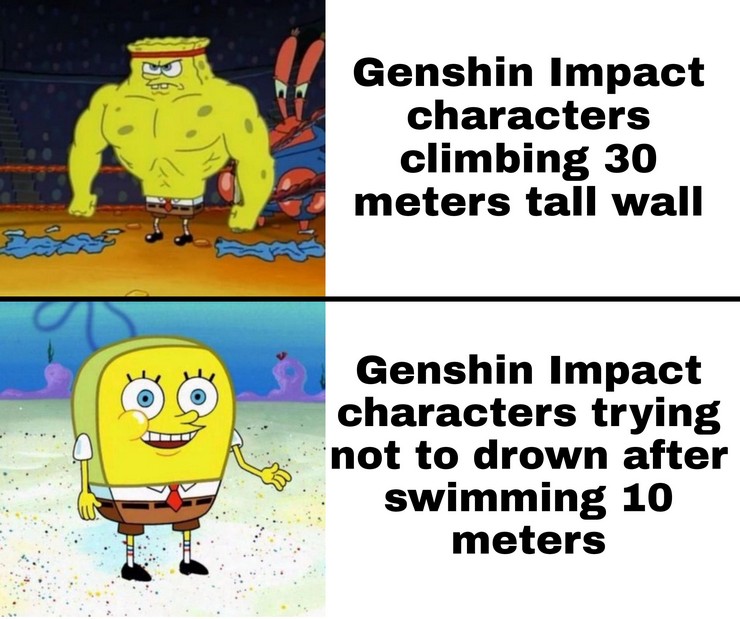 16. Get used to it
With the addition of new characters, we also see the arising Genshin meme faces in town. Kokomi needs to adjust to the situation just like how familiar Keqing, Albedo, and Yoimiya are with their banners being skipped over time.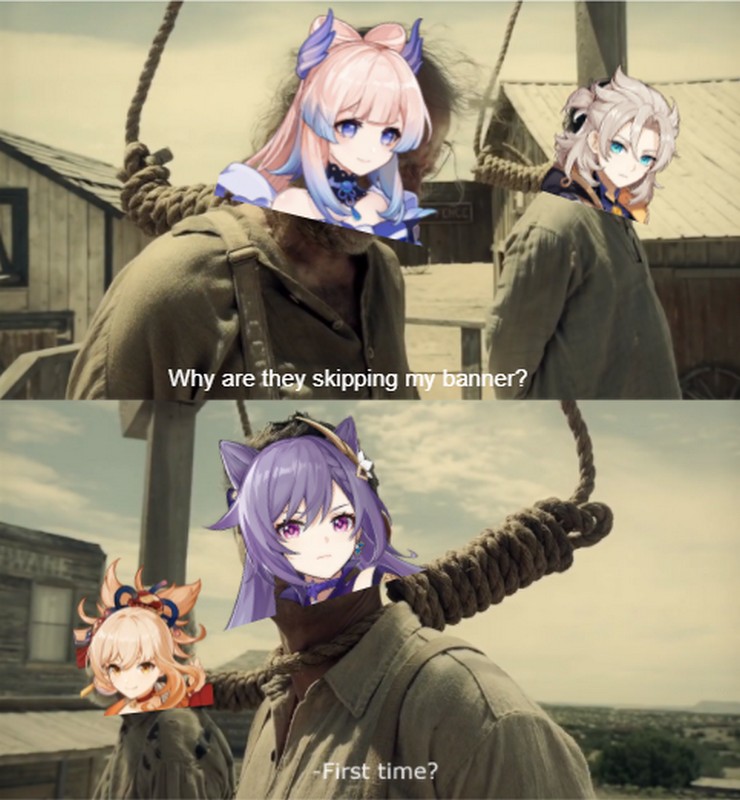 17. You vs. Your parents
They say "simping" for overseas celebrities is less hurtful than drooling over a fictional character, because the latter does not even exist. The same applies to Zhongli's fans.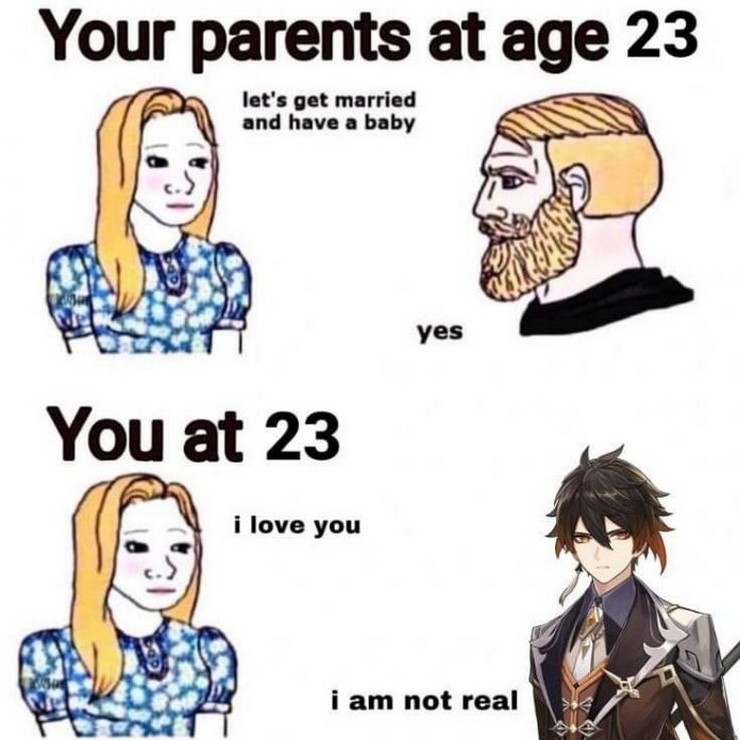 17. You're doing great, sweetie
The releases of Inazuma 5-stars Yoimiya, Raiden Shogun, and Kokomi have gathered talks as the changes miHoYo added cannot satisfy fans. Meanwhile, Ayaka build seems to be more reliable and received more approvals than the others.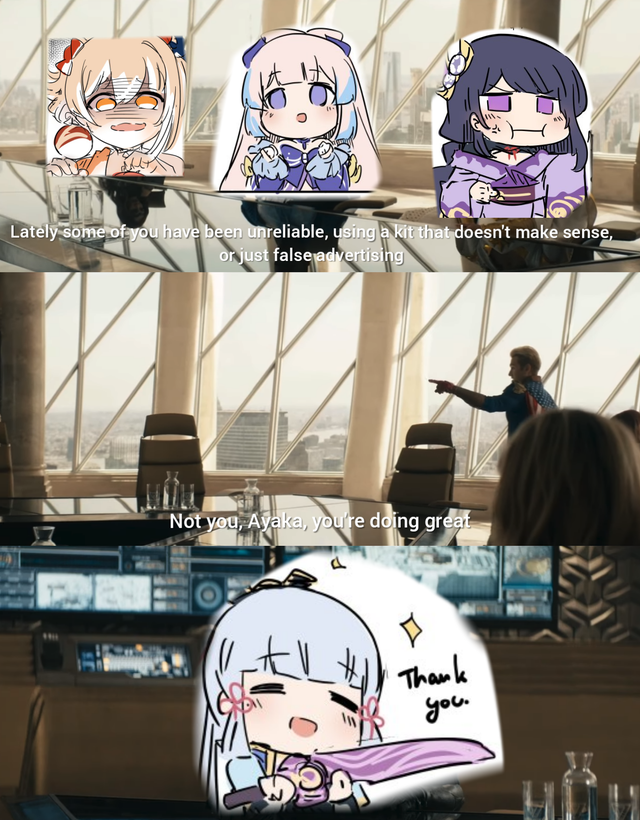 19. Stay tuned
Dainsleif only brings jaw-dropping news and facts with him every time he appears. If you are down for more tear-jerking or rare updates, stay tuned with Dáinsleif for more.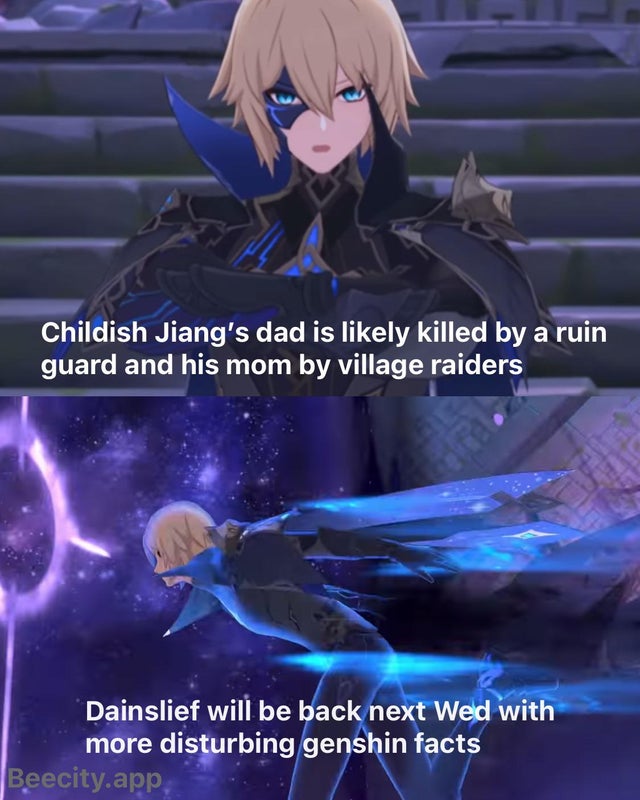 20. Cute or cool
You will never get tired of Genshin Impact characters line considering how diverse they are.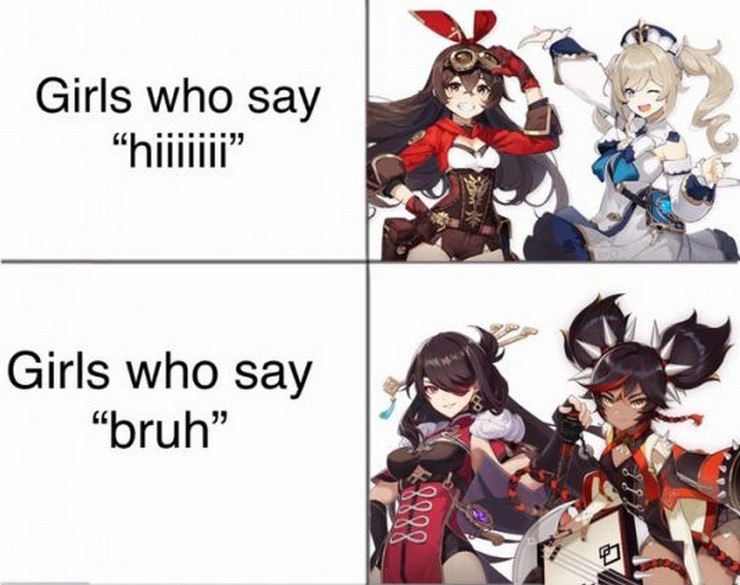 >>> Related post: Top 10 Most Popular Genshin Impact Theories In 2022
21. Mr. Worldwide
Albedo has always been a heartthrob besides other "husbandos" in the game, such as Tartaglia, Kazuha, Zhongli.
However, little do people know that his English voice actor – Khoi Dao, was born in Vietnam, grew up in France, lives in the US, studied in Japan, and works in a Chinese game. Needless to say, Pitbull should give up his title as Mr. Worldwide to our Albedo. 22. What in the Discovery Channel is this?
Genshin Impact characters are known for their neat movement and powerful skills when in combat. But there is a reason why we have endless memes across multiple platforms.
The fan community did make lots of jokes about Xiao's height as he was the male character with a limited height. Instead of standing in the water like other long-legged such as Zhongli or Diluc, he just floats gracefully.
In this case, fans spotted some particular moments where Diona's shadow, while she swims, resembles a floating turtle. Meanwhile, they just called Ayaka a fat goose as she is trying to land from the height. How cruel. 23. When you fail the 50/50
One of the best ways for free-to-play players to get their favorite characters is to accumulate wishes and win the 50/50 pull in Genshin Impact. But life is not a dream. Sometimes you try your best but you don't succeed.
The below Albedo represents our pain when we (again) fail to pull for our desired character. Instead, HoYoverse just gave us 5-star characters from the common banner. And it hurts deeply. 24. The art of looting
When we are so desperate to get materials to craft some weapons, cook some dishes, or upgrade some characters, a smart way is to enter other players' worlds and take a walk.
But sometimes, being honest will not help you out. Some players just take a chance and instead of joining for a domain, they go farming. 25. Madame Ping the playable
There are indeed many NPCs whom Genshin Impact players want to become playable. Believe it or not, Madame Ping is also one of these desired characters.
This is what it looks like if you get her as a playable unit. Some say she is a 10-star and HoYoverse is just too scared to make her a real warrior. 26. I did it for love
The thrill when your favorite character's banner arrives is unreal. You have definitely tried so hard to collect Primogems and as many materials as possible to get them and make them viable.
Before they come, you have loads of high-quality materials. You feel rich and fulfilled. However, after you actually get them, the materials run out. Although you still have a chance to make the inventory full again, you do feel like a beggar in this game.
27. Weapon only?
What hurts worse than failing your 50/50? It's trying to pull for a character but instead, you end up with weapons only. And it does not even include a 5-star weapon.
We guess we all have this blank face of Lumine at that exact moment. No screaming can describe this pain. 28. Here comes your angel
Childe and Zhongli's relationship is adored by a lot of Genshin Impact fans. They even entered the list of best Genshin Impact ships.
In this case, Zhongli wished to have the nicest angel. But maybe the devil could not reach Zhongli, so they sent him his personalized hell in form of a menace. It is a Childe whose maniac laughter echoes across the Earth. 29. Is this a game or a math class?
Before update 2.0, the puzzles seemed to take little effort to solve. From then on, the puzzles and quests just get harder and harder, such as quests in the Golden Apple Archipelago map.
Players shared their experience as "so irritating that they jumped off the castle intentionally" or "it took them 10 thousand times to solve this quest". 30. Welcome home cheater
Tower of Fantasy is a recently released game. Apparently, the title is gaining a lot of attention. However, Genshin Impact players who have been sticking with the game for a while should feel ashamed as the game itself is feeling betrayed. 31. Nahida is just too cute
While the Archons have a meteor or a lightning ball on their hands to represent their power, the new Dendro Archon is sweeping the community with her cuteness. In this Genshin Impact meme, fans have drawn her power as cabbages. 32. The joy of rich people
Diluc and Tartaglia are known as the rich in Genshin Impact. Meanwhile, Mona does not have enough money to pay rent, and Zhongli is called a broke old man.
With this very meme, the Pyro Dark Knight and the Hydro Fatui are throwing money at each other's faces as a way of catfighting. Zhongli and Mona are being Robin Hoods. The only difference is they are stealing for themselves. 33. Sumeru enemies
Upon the arrival of Genshin Impact update 3.0, new enemies are being introduced. However, fans are joking that these bosses are straight from nature. You are making fun of their power. But, do not flatter yourself. 34. The Rock rock
If you ever see The Rock as a rock in Genshin Impact, don't be surprised as HoYoverse itself is also getting on the multiverse trend.
We had Spiderman multi-universe and Dr. Strange multiverse. The Rock multiverse should be expected. 35. Love hate relationship
We know how Venti treasures Dvalin, but the same may not apply to Zhongli and Azhdaha. For more related guides and news, make sure to check out Gurugamer.com!